16 hours
1-on-1
Flexibel to use,
during a period of 3 months
App
support
guidance
in the moment
Personalized
Enquiries
foundation
for transformation
Costumized
inspiration
Empowerment
to change
2 Breath work
sessions
Release old narratives
and programs
1 Destiny
reading
Intuitive
guidance
You got your own back.
– Participant to himself after the program
This program brought me deep insights and I was able to release things that I had been holding on to for a long time which stood in the way of my personal development.
– Personal truthseeker after the program
Start your journey with a DIY Guidebook
GUIDEBOOK
Live your truths
Define your truth
based on;

▵ a foundation of values 
▵ a grounding of self worth 
▵ intuitive knowing
[SOON AVAILABLE]
– end summer 22 –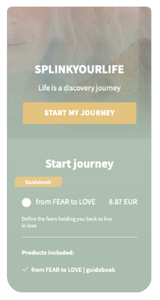 The guidebook is a short online course, 
presented in the exclusive SPLINKYOURLIFE app.