16 hours
1-on-1
Flexibel to use,
during a period of 3 months
App
support
guidance
in the moment
Personalized
Enquiries
foundation
for transformation
Costumized
inspiration
Empowerment
to change
2 Breath work
sessions
Release old narratives
and programs
1 Destiny
reading
Intuitive
guidance
I finally came to the core of my emotions.
– Michiel, participant from FEAR to LOVE
I am grateful that this experience was able to open up some space in my heart. So that I am able to return to the open hearted child full of love.
– participant from FEAR to LOVE
Start your journey 
with a DIY guidebook
GUIDEBOOK
Transform your fears
Define the fears
holding you back
❤︎ living from love
❤︎ living the life you love
❤︎ relating from love
[SOON AVAILABLE]
– half summer 22 –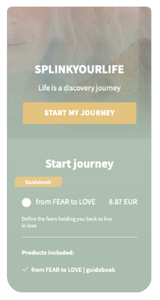 The guidebook is a short online course, 
presented in the exclusive SPLINKYOURLIFE app.